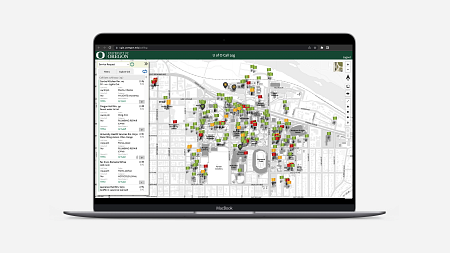 Developed in 2017 as a collaboration between UO's Safety and Risk Services and Campus Planning and Facilities Management, the Call Log app has since logged more than 95,000 requests. The app began as a tool exclusively for call takers and dispatchers. It rapidly grew to nearly 1,000 users across campus.
We continually expand features in the Call Log app and add integrations with other Location Innovation Lab (LIL) applications as well as those of outside vendors. For example, by integrating the Call Log with the UO Spaces system, each new pin drop can access room-level space data such as: department allocation, use type, occupant info, and associated people. This integration provides instant ability to notify and communicate with users of the affected spaces.
Call Log integration with the EMS scheduling system provides instant views into course and event schedules which significantly reduces the time it takes to schedule the work. In 2020 StarRez system was integrated with Call Log. This integration allows nearly 5,000 UO students living in residence halls to send their requests directly to the Call Log for routing.
Once a request has been logged our API routes it to the appropriate work or asset management system such as AiM by AssetWorks. From there each work order and phase of a project is delivered to technicians in the field in ANVIL, our mobile app.