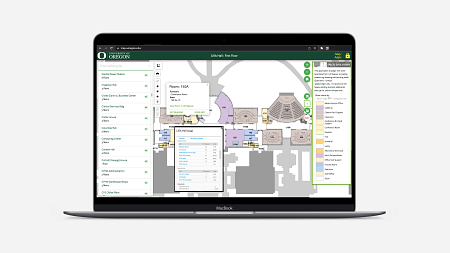 Central leadership uses the UO Spaces web/mobile app to allocate space to divisions and departments. Designated editors within each department routinely update their allocated spaces. Editors can designate specific space uses, identify individual occupants, and associate relevant researchers for each of their rooms. Updates entered by departments are logged in an approval queue for verification by Campus Planning.
Users can explore any of the UO's 30,000 rooms across multiple campuses. Users can download data in spreadsheets for further analysis or PDFs of their building maps. 
The backbone of the UO Spaces system is LIL's unique mapping platform that maintains all of the room geometry in an agile manner. This allows LIL to keep up with constant changes to rooms across campus. 
UO Spaces and the underlying location engine is the foundation of an entire suite of applications LIL developed in pursuit of a smarter more resilient organization. Each of the applications built on this foundation provides valuable new services to campus which fuels the feedback loop that enables LIL to keep the data current and accurate.