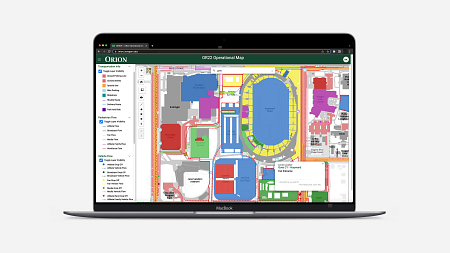 ORION was initially developed in 2012 in support of the U.S. Olympic Team Trials - Track & Field hosted at the University of Oregon (UO). During the event, ORION served as the situational awareness tool for local, regional, and federal safety and security teams.
The app then evolved to provide the same functions for UO home football games at Autzen Stadium, activations of the Incident Management Team (IMT), and unexpected incidents or situations on campus.
In 2022, ORION was used to successfully manage the World Athletics Championships held at the UO. The app supported both meet operations and safety across multiple venues while linking teams from across the country.
Using ORION, UO IMT members can quickly and easily initiate posts, notify users by text and email, and have immediate and ongoing internal communications. ORION leverages more than 300,000 geolocated objects in our spatial database (indoor, outdoor, and underground)to visualize where events are happening and gain awareness for objects in the area. Users can generate and distribute action reports directly within ORION and export statistics. Command staff utilize a full administrative dashboard to manage users, optimize search, and customize maps for users.